Check Point Firewall Security Solution
Overview of Firewall Features
Firewalls control the traffic between the internal and external networks and are the core of a strong network security policy. Check Point Software Blades are a set of security features that makes sure that the Security Gateway or Security Management Server gives the correct functionality and performance. The Check Point Firewall is part of the Software Blade architecture that supplies "next-generation" firewall features, including:
VPN and mobile device connectivity
Identity and computer awareness
Internet access and filtering
Application control
Intrusion and threat prevention
Data Loss Prevention
Components of the Check Point Solution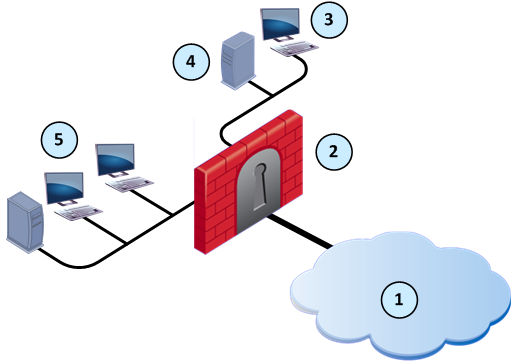 | Item | Description |
| --- | --- |
| 1 | Internet and external networks |
| 2 | Security Gateway |
| 3 | SmartDashboard |
| 4 | Security Management Server |
| 5 | Internal network |
These are the primary components of a Check Point solution:
Security Gateway - The engine that enforces the organization's security policy, is an entry point to the LAN, and is managed by the Security Management Server.
Security Management Server - The application that manages, stores, and distributes the security policy to Security Gateways.
SmartDashboard - A Check Point client used to create and manage the security policy.
Dual Stack (IPv4 and IPv6) Network Configuration
You can easily configure the Firewall to support a dual stack network that uses IPv4 and IPv6 addresses. Configure one or more interfaces with the applicable IPv4 and IPv6 addresses.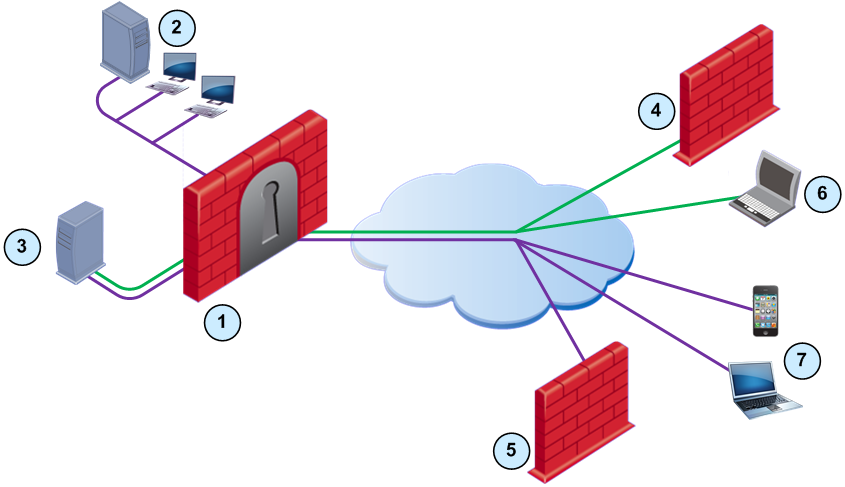 Item

Description

IPv4 network traffic

IPv6 network traffic

1

Security Gateway for dual stack network

2

Internal network (IPv6 traffic)

3

Dual stack web server in the DMZ

4

Security Gateway for IPv4 network

5

Security Gateway for IPv6 network

6

Mobile device (IPv4 traffic)

7

Mobile devices (IPv6 traffic)

Note - For R76 Security Gateways and higher, you can configure the interfaces to use only IPv6 addresses.
Access Control and the Rule Base
A primary goal of a firewall is to control access and traffic to and from the internal and external networks. The Firewall lets system administrators securely control access to computers, clients, servers and applications. The Firewall Rule Base defines the quality of the access control and network performance. Rules that are designed correctly make sure that a network:
Only allows authorized connections and prevents vulnerabilities in a network
Gives authorized users access to the correct internal networks
Optimizes network performance and efficiently inspects connections
Licenses
Some LTE features require special licenses installed on the Security Gateways. The management server does not require special licenses.
GTP features require a license, or the earlier GX/GTP license.
CGNAT requires the license.
SCTP and Diameter inspection require the license.
If there is no Carrier license on the Security Gateway, you cannot install a policy that has these rules:
CGNAT rules
Rules with SCTP or Diameter services
Rules with = and is enabled for an SCTP service.
Notes
Services defined in > do not require a Carrier license.
SCTP Connections matching services are not inspected.
How to Use this Guide
When you configure a Firewall, it is necessary that you understand how it is connected to the other Software Blades. For example, you must add a rule for the Firewall to allow remote users to connect to the internal network. In addition, you can enable Software Blades to supply advanced protection for the network, such as IPS and Anti-Bot.
Some of the sections in this guide tell you how to enable a sample configuration of a Software Blade. Make sure that you read the applicable Administration Guide for the Software Blade before you configure the feature for a production environment. Each section also explains rules that you must add to the Firewall Rule Base to complete the configuration for that feature.
Software Blades in this Guide
| Software | Blade | Chapter |
| --- | --- | --- |
| | Firewall | Creating a Strong Firewall Security Policy |
| | Mobile Access | |
| | IPsec VPN | |
| | Identity Awareness | |
| | URL Filtering | |
| | Application Control | |
| | IPS | |
| | Anti-Bot | |
| | Anti-Virus | |
| | Anti-Spam | |
| | Data Loss Prevention | |
| | Advanced Networking & Clustering | |
| | SmartEvent | |
| | SmartLog | |
SmartDashboard Toolbar
You can use the SmartDashboard toolbar to do these actions:
Icon

Description

Open the SmartDashboard menu. When instructed to select menu options, click this button to show the menu.

For example, if you are instructed to select > , click this button to open the Manage menu and then select the option.

Save current policy and all system objects.

Open a policy package, which is a collection of Policies saved together with the same name.

Refresh policy from the Security Management Server.

Open the Database Revision Control window.

Change global properties.

Verify Rule Base consistency.

Install the policy on Security Gateways or VSX Gateways.

Open SmartConsole.