Basic Configuration
VoIP in SmartDashboard
VoIP in SmartDashboard is configured in two places:
Basic Configuration Workflow
This section describes the workflow for a basic SIP configuration.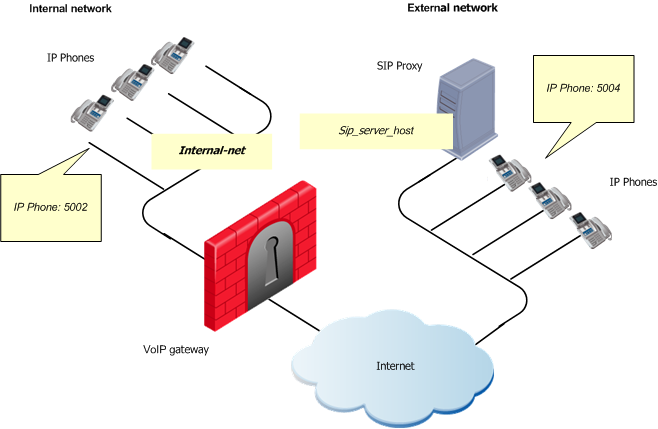 We assume:
You have installed a Security Gateway and Security Management Server.
The VoIP phones in the external networks are:

Not behind a NAT device or
Behind a NAT device that is VoIP-aware
To configure VoIP:
Log in to SmartDashboard.
Define the Security Gateway.
Define the VoIP server.
Define the VoIP endpoints.
Define a VoIP security rule.
Install the Security Policy.
Test the configuration.
Defining the SIP Server
To define a SIP server (also known as a SIP Proxy or a Registrar) use the regular Host object in:
For example, name the host: sip_server_host.
Defining the SIP Endpoints
Define the internal VoIP phones (endpoints) by:
Defining networks or host objects or
A group of hosts and network objects
For example, a group of internal networks might be named: internal_net.
Defining the Security Rule
Configure a simple security rule that allows traffic between endpoints on the internal network and the SIP server in the external network.
Click the tab.
Add this rule:
Source

Destination

Service

Action

internal-net

sip_server_host

sip_server_host

internal-net

sip

sip_dynamic_ports

sip-tcp

Accept
Install the policy.
Testing the Configuration
Test the configuration by making phone calls from an:
Internal phone to an internal phone.
Internal phone to an external phone.
External phone to an internal phone.
After making each call, see the resulting logs in SmartView Tracker.
To see the VoIP logs:
From the SmartDashboard menu, select .

SmartView Tracker opens.

Under the queries, select the filter.
Examine the resulting logs.
Typical Call Session VoIP log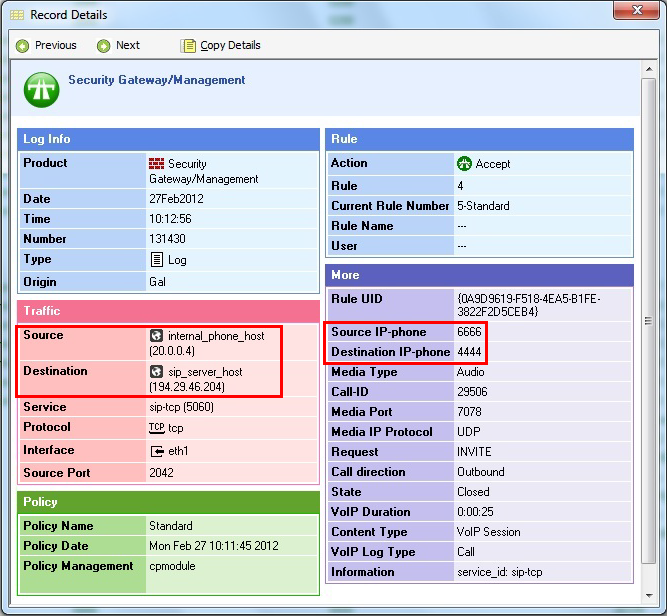 The Figure shows a typical Call Session VoIP log for a successful call from an internal phone to an external one.